Exceeding Expectations at The Laurels of Coldwater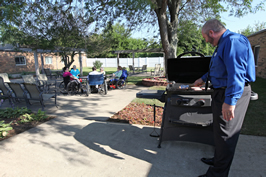 At The Laurels of Coldwater, it is our mission to create a legacy by exceeding the needs and expectations of those we serve while embracing The Laurel Way. We understand that caring is more than providing excellent medical and guest services. It also includes being a companion and treating each guest with the utmost dignity, respect, and compassion.
"The Laurel Way of Caring" can be found in a warm smile, a kind word, or a comforting touch. We are passionate about our mission, and it is reflected in the letters we receive from guests and family members.
Guest Testimonial: Renee J.
When Renee admitted to The Laurels of Coldwater in April 2016, she planned on being a permanent long-term care resident as the stroke she had in March left her quite debilitated. however, Renee received Occupational and Physical Therapy during her stay which helped to build her strength enough so that she is now able to walk with assistance of a walker, write her name legibly and relearned how to do activities of daily living independently. Recently, she discharged to an independant living community and feels that her expectations during her stay have been exceeded by the staff at The Laurels of Coldwater.
When asked if she had any words of wisdom for a new guest, Renee said, "occupational and physical therapy are tough but if you try your hardest it will work." Renee would like to thank Therapists Matt Graeber, Gina Bressler, Josh Stratton, and Toni Crawford for helping her regain her strength and independence!
Guest Testimonial: Clarence W.
Clarence, a recent guest at The Laurels of Coldwater, is happy to be back in Branch County after an eventful return from Florida in April. One afternoon, after receiving chemotherapy for lung cancer in Jackson, Clarence suffered a stroke while doing yard work. Shortly after the stroke, Clarence was transferred to the Laurels of Coldwater for rehab to rebuild his strength. Clarence and his favorite therapist, Penny, meet each morning around 6AM, which Clarence states he enjoys because "it gets my day going, and she really works me good, then I can go on with my day." He's now able to walk again, with the assistance of his of his walker, and is getting stronger each day.
Clarence has rebuilt enough strength to resume his chemotherapy and is overjoyed to be returning home to his wife, Elaine. The couple will celebrate their 60th wedding anniversary in July and are looking forward to being able to resume helping their children with the campground they own in Leonidas and tending to their garden together.
Guest Testimonial: Lorrain C.
Lorraine, retired 4th Grade teacher, gives her recent rehab stay at The Laurels of Coldwater an A+! Upon admission, Lorraine said she wanted to get back to her previous level of functioning, prior to her two recent surgeries, and be able to navigate the 14 stairs at her lake house once again. Lorraine enjoyed working with all of her therapists at The Laurels of Coldwater, "I loved the creative games they used to help build my strength. I hardly knew I was working out!" Lorraine felt at home staying in her comfortable, private suite and relished about the three fine dining meals a day she received while at The Laurels of Coldwater, "the meals here are even better
than what I eat during the winter months in the Florida Keys!" A few of Lorraine's favorites during her stay were the baked sweet potatoes, roasted chicken legs, and the delicious desserts! Mrs. Clyne would like to remind everyone, especially her former students, that you're never too old for an adventure! With the help of the entire Rehabilitation Staff at The Laurels of Coldwater, Lorraine has regained her strength, and is looking forward to her celebrating her 90th birthday back at the lake and her annual Wave Runner ride!
Guest Testimonial: Michael D.
Michael, Guest at The Laurels of Coldwater, knew his first choice right away when looking for a Skilled Nursing and Rehabilitation Facility after a bone infection left him a double amputee- "I stayed at The Laurels of Coldwater a few months prior and already knew how great their Therapy Department and nursing care was, choosing The Laurels of Coldwater was a no brainer!" The physical and occupational therapy Michael has received during his stay has built his overall strength tremendously, Michael is especially impressed with his increased upper body strength and ability to navigate in his wheelchair with ease. Michael has been working diligently with his therapist, Melissa, and will be walking with his prosthetic legs proficiently in the near future. Upon discharge, Michael is looking forward to getting back into the workforce and states he'll never forget the "friendly and comfortable environment" he's experienced during his stay at The Laurels of Coldwater.